Henkel Surface Technologies is an international manufacturer of high quality chemical resistant construction materials. The Henkel Surface Technologies line is a complete construction system, including;

Linings
Membranes
Monolithics
Polymer Concretes
Brick Mortars
Tile Grouts/Beds/Expansion Joints
Pennguard® Block
Acroline® Trench Systems
Sil-Mar Construction Corp. is an authorized installing contractor for the TUFCHEM® Tiling System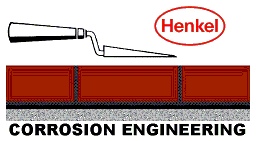 Henkel's TUFCHEM® Tiling System is new innovation in direct-bonded chemical-resistant tile flooring systems. If you are familiar with acid brick or conventional tile systems, the advantages of TUFCHEM® Tiling System will be readily apparent. By using improved ceramics, innovative modern installation techniques, and upgraded materials of construction, the performance of tile and brick floors in food beverage and pharmaceutical applications is greatly enhanced. The system is designed for superior performance, outstanding aesthetics and maximum installation speed.
---
website designed by Weber Technologies Direct
Copyright © 2005 Sil-Mar Construction Corp. TUFCHEM® , PENNGUARD®, ACROLINE® ARE TRADEMARKS OF HENKEL SURFACE TECHNOLOGIES AND ARE REPRODUCED HEREIN BY PERMISSION. UCRETE® IS THE REGISTERED TRADEMARK OF DEGUSSA AND IS REPRODUCED HEREIN BY PERMISSION. ANCHOR-LOK® AND THE ANCHOR-LOK® LOGO ARE REGISTERED TRADEMARKS OF ATLAS MINERALS & CHEMICALS INC., AND ARE REPRODUCED HEREIN BY PERMISSION. ELASTI-LINER® I & II ARE REGISTERED TRADEMARKS OF KCC CORROSION CONTROL CO., LTD., AND ARE REPRODUCED HEREIN BY PERMISSION.